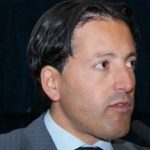 On February 5th, the famous bear M20 or Juan Carrito came out of hibernation and came back to Roccaraso. At the apex of the ski season, and perhaps because of the exaggerated media exposure given to the presence of the animal, the small town – which was busy with tourists – once again was unable to cope with organic waste management.
Since food waste has been a great attraction for Juan Carrito inside the town, the president of Salviamo l'Orso wrote again to the Mayor of Roccaraso, urging him to take measures as soon as possible, for the safety of JC, locals and tourists.
Unfortunately, the efforts of associations, institutions and parks were useless. As we feared, Carrito was captured and moved to the Palena wildlife enclosure.
This capture was a major blow and a defeat to all the people who helped keep Juan Carrito safe and free. The erroneous attitudes that have caused this specimen to become conditioned to food of anthropogenic origin originated from a blind selfishness and neglect to the needs of nature. We hope that the Maiella National Park will release Juan Carrito into nature as soon as environmental conditions permits, as prescribed by ISPRA (Superior Institute for the Environmental Protection and Research).
https://www.theguardian.com/world/2022/mar/07/rare-italian-bear-famous-for-bakery-break-in-captured