Written by Jake Morris, Mario Cipollone & Simone Giovacchini
In 2019 Patagonia & Tides sponsored Salviamo l'Orso for the project The Cutting Edge of Conservation, for removing at least 12,000 m of barbed wire in the buffer zone of the Abruzzo, Lazio and Molise National Park.
Description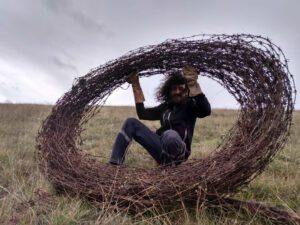 The use of barbed wire fencing to both retain agricultural activities or reforestations and restrict both wild species and domestic cattle was a traditional practice, and hence has led to an abundance of barbed wire in natural ecosystems. A multitude of academic research articles highlight the detrimental effects of barbed wire fencing for both meso and macro-fauna due to a variety of direct and indirect effects. Fencing – particularly that made from barbed wire – can be both literal barriers, which impedes the movement of an animal, and functional barriers reducing the frequency of animal movements. Such negative effects are enhanced for large carnivores, due to their huge home ranges and requirements for long-range dispersal. Not only may this directly increase mortality in large carnivorous species, but subsequently may initiate top down cascade effects which damages the entire local ecosystem.
Habitat fragmentation is a long standing and perpetually worsening issue for today's global ecosystems. The literal and functional barrier that barbed wire fencing generates is a direct cause of fragmentation issues to a variety of keystone species. Habitat fragmentation elicits reductions in distribution, dispersal and demographics. This in turn generates various deleterious genetic effects such as genetic drift and inbreeding depression, with small populations being particularly susceptible. Such reductions in the Marsican brown bear's ability to disperse and subsequent effects for its genetic integrity is a potential threat to the species' future and therefore needs to be mitigated.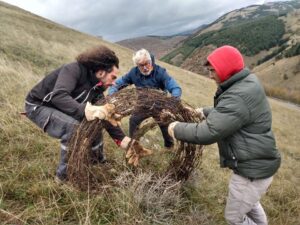 The cutting edge of conservation is a project that some members of Salviamo l'Orso, who witnessed first-hand the issues surrounding the prevalence of unused barbed wire in their local area, proposed for funding to Patagonia & Tides. Salviamo l'Orso arranged an agreement with the municipalities of Villalago, Cocullo and Gioia dei Marsi, within the ALMNP buffer zone, and the municipality of Pettorano sul Gizio in the Monte Genzana Alto Gizio Nature Reserve.
Area of intervention
The core areas of attention are the wildlife corridor connecting the Abruzzo, Lazio and Molise National Park to the Sirente Velino Regional Park, including the municipalities of Cocullo and Gioia dei Marsi, and the wildlife corridor connecting ALMNP to Genzana, in the municipalities of Villalago and Pettorano sul Gizio.
Main purpose
The conservation of the Marsican brown bear through the restoration of its natural environment.
Strategies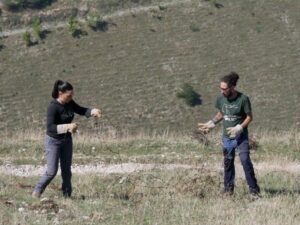 The main strategy is to remove barbed wire fencing to promote dispersal and the success of the Marsican brown bear and reduce the risk of genetic drift and inbreeding depression in this small population of bears. Moreover, the project aims to restore the habitat and the landscape of these beautiful mountains by taking away manmade barriers to wildlife movements. Barbed wire may be a deadly threat for large mammals, in particular for the stags, which may entangle in the metal coils with their antlers in the period of the rut, when they fight head-down for their harem. Barbed wire may also directly impact large birds, such as griffon vultures and owls, when they take off.
Tactics
This project involved the utilization of volunteers from a variety of predominantly European countries. They acted as a highly useful working tool, whilst also having the opportunity to engage in the conservation occupation. This project promotes the increase in biodiversity across the Central Apennines, whilst acting as an educational experience for a variety of students.
Tactically it was hugely beneficial to incorporate residential stays for the organization's staff and volunteers during the project. This maximized the effectiveness of barbed wire removal due the mitigation of the long travel times, which accompany work in this vast region. This also enabled SLO to extend our reach to a wider area across various parks, amplifying and increasing the wildlife corridors that are integral to many species. The arrival of volunteers into far out reach communities subsequently produced both social and economic benefits for these areas, also promoting a positive outlook on conservation.
Achievements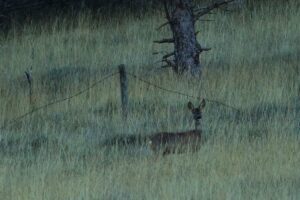 In twenty days of work, Salviamo l'Orso volunteers removed 45,000 m of barbed wire, equal to 15,000 m of fences from the mountains of Cocullo, Gioia dei Marsi, Pettorano sul Gizio and Villalago. If we add the barbed wire which was removed in 2017 for the project Let's take action for the bear, sponsored by EOCA, this total rises up to 65,000 m of wire and 24,000 m of fencing. Within a sustainable disposal framework, the residual wooden posts have been stacked on sites, which were not visible from the nearby paths and roads, to simulate heaps of dead wood that can play as shelters for some little animals. We adopted two different methodologies to create the stacks: 1) close to bushes in open areas, on their southern side, in order to create thermoregulation sites for reptiles or wind barriers for grassland birds nesting inside the bushes; 2) close to deciduous trees in the forest, in order to create wet shelters for terricolous amphibia typical of the wood, like salamanders. Even though there is no ecological analysis to support this action (i.e. attesting that shelter availability is the limiting factor for the target species populations), we believe it represents the best trade-off between logistical constraints for the disposal of the posts and the destiny of these wooden artefacts, which over time will be naturally degraded by biological communities in the intervention area. Only a few wooden posts have been left standing on the mountain ridges to provide the protected shrikes with perches.
In the period June-November 2018, our volunteers surveyed the project areas on a regular basis, having direct observations of large mammals (such as red deer, roe deer, wild boar, Marsican brown bear and Apennine wolf) and large birds of prey (such as golden eagle, short-toe snake eagle, red kite and griffon vulture), and finding many signs of their presence.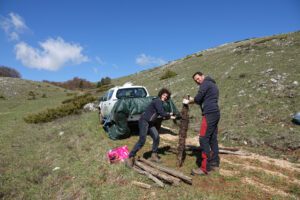 A promising game trail was chosen for investigating the passage of wildlife and how barbed wire could affect their movements. In October 2018, a Bushnell trail camera was deployed nearby. In April 2019 the barbed wire in front of the trail camera was cut. At the beginning of June, the Bushnell was retrieved because the spring-summer vegetation encroached it and the game trail as well. At the end of September, the trail camera was put back at the same place. The footage collected in nine months was extremely valuable, showing wildlife movements that were finally liberated from the hindrance of barbed wire.
Ground surveys were regularly performed in the period May-November 2019 showing the presence of the same animal species as before (see ex ante monitoring), but with a larger capability of movement.
Budget
Patagonia & Tides foundation sponsored "The cutting edge of conservation" with USD 6,000 for insurance, working tools, monitoring tools, food and accommodation for volunteers, fuel reimbursement. The total expenditure amounted USD 7,178, which Salviamo l'Orso matched with its own funds.
Conclusions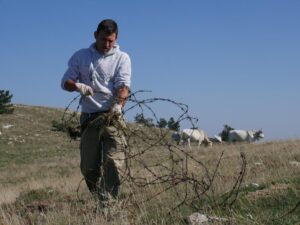 This project involved at least forty volunteers who showed great commitment and determination to remove over forty kilometres of barbed wire, which were impeding the free movement of wildlife. The natural landscape has benefited from the interventions and also the local communities, which saw an enhancement in the value of their natural assets. However, there are too many kilometres of barbed wire fences still standing in the mountains. SLO and its partner Rewilding Apennines are both committed to carry on this environmental restoration action.
Acknowledgments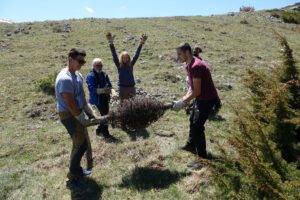 We warmly thank all volunteers who take part in this action, in particular Jake Morris and Joanna Willock for writing the proposal for funding, Simone Giovacchini, Cedric Rocholl, Fabrizio Cordischi and Julien Leboucher for ground surveys, Francesco Verrocchio for editing a video with camera trap footage, and the staff of Rewilding Apennines. We are grateful to Wildlife Adventures, our senior volunteer Maurizio Carfagnini and a local friend, Pietro Marinilli for helping us bring hanks of barbed wire down from the mountains by their 4×4 cars.
Special thanks to Bailey Sheridan – Patagonia Reno Outlet Sales Manager – for having volunteered for us from September to November 2019, showing a particular dedication to this project.
_________________
References
https://besjournals.onlinelibrary.wiley.com/doi/full/10.1111/1365-2664.12013
https://www.researchgate.net/publication/285642397_Barbed_wire_fencing_as_a_hazard_for_wildlife
http://www.sagegrouseinitiative.com/wp-content/uploads/2013/07/Wyo_FenceGuide.pdf
https://sora.unm.edu/sites/default/files/journals/wilson/v102n03/p0553-p0558.pdf
https://www.birdlife.org.za/what-we-do/terrestrial-bird-conservation/what-we-do/birds-and-fences/