Written by Mario Cipollone and reviewed by Emily Evans
Following the death of a female bear and her two cubs in a water-collection pit in the locality "Le Fossette" of Villavallelonga, in January 2019 Salviamo l'Orso decided to launch the campaign We want water to be only a source of LIFE to secure wells and pits which pose a threat to the safety of wildlife and people. This is a very onerous objective that requires commitment from everyone.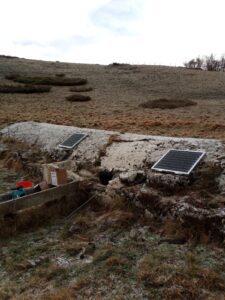 Thanks to donations by members of the organisation and from its own funds, in April 2019, soon after the thaw, Salviamo l'Orso made six wells safe by resistant metal grids (Table 1) in the area of Villalago on the borders of the Buffer Zone (ZPE) of the Abruzzo, Lazio & Molise National Park (PNALM). These structures had been located during barbed wire removal operations for the projects Let's take action for the bear and The cutting edge of conservation, thanks to extensive knowledge of the territory by blacksmith Mario Schiappa, who did the safety work. The Nature Reserve and WWF Oasis Gole del Sagittario contributed paying for the closure of one of the two wells of the Ortona well. We therefore kept the promise we made last fall after the three bears drowned in Villavallelonga.
Nome
Name

X Coord.
(WGS 84, UTM 33)

Y Coord.
(WGS 84, UTM 33)

Alt. (m)

N. pozzi
# Wells

Dim. (cm)

Piscina La Mitola

401612

4643773

1212

1

80 x 60

Piscina di Guast

400843

4644942

1408

1

65 x 70

Conca d'Oro

400203

4645100

1530

2

70 x 70; 65 x 65

Piscina di Ortona

398717

4646740

1615

2

70 x 70
Table 1 – Wells which have been secured in Villalago.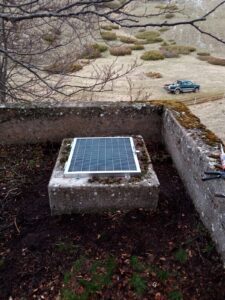 In the meantime, even the well at "Le Fossette", responsible for the death of five bears, including four females between 2010 and 2018, was definitively secured by a construction company at service of the Sipari family, the owners of the land, who filled it with earth and stones.
However, there are still numerous wells which pose a threat to bears, other wildlife, domestic animals as well as hikers in the winter when snow covers them. In 2019 we monitored other cisterns for the collection of rainwater which were reported by members and friends of the organisation, who were concerned that tragedies like those in Villavallelonga could be repeated elsewhere. We detected dangerous situations in; three wells in Ovindoli, one in Lucoli, one on Morrone in the municipal area of ​​Sant'Eufemia a Majella, four in Scanno, including a basin for artificial snow, and four in Collelongo.
The potentially dangerous structures in the Municipalities of Scanno and Collelongo are also included on a specific map, referring to the territory of the Park and the ZPE, published on the cartographic portal on the PNALM website.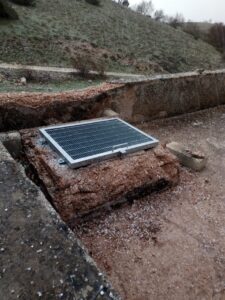 Wells pose a threat to wildlife worldwide, with several examples of large carnivores falling into them becoming trapped, as they are unable to climb the smooth and vertical walls, often being saved by the men who use those cisterns. If this is more likely to occur in the populous rural areas of so-called "developing countries", in the mountains of the Central Apennines it is unlikely that someone will notice animals struggling to escape a well in good enough time to rescue them.
Consequently, making any source of danger safe in a systematic way is necessary to improve the likelihood of the Marsican brown bear persisting.
If you want to help us to achieve this imperative goal, please report potentially dangerous situations that you are aware of and / or support us by making a donation.