Salviamo l'Orso is a non-profit, volunteer-led association working to save the Marsican brown bear from extinction by appealing to everyone who cares about this unique species and its natural environment.
Our work pairs engagement with various authorities and organisations with practical on-the-ground interventions that help protect these bears.
We contribute to the world's understanding of this species and the threats it faces
EDUCATE
We encourage co-operation between organisations which are responsible for protecting the species
FACILITATE
We make sure that any risks to the bears' health and habitat are tracked and quickly reported
MONITOR
We evaluate and fund bear conservation projects and our members and volunteers deliver them
ACT
2024 SLO Calendar
After much waiting, the 2024 Salviamo l'Orso calendar is now available.
Thanks to the collaboration and talent of the naturalistic designer Elisabetta Mitrovic-Taccuini in Natura we have created something truly special.
A bear proof road
Help us make dangerous road safe for wildlife.
Bear Smart Community Project
Electric fences installation
380
Environmental improvement projects
Barbed wire removed (km)
180
Water collection tanks secured
15
Trees planted, away from the villages
250
Terre dell'Orso newsletter
Our magazine Terre dell'Orso (which means 'Lands of the Bear' or 'Bear Country') features news, updates and in-depth articles concerning the protection of the bears and their territory.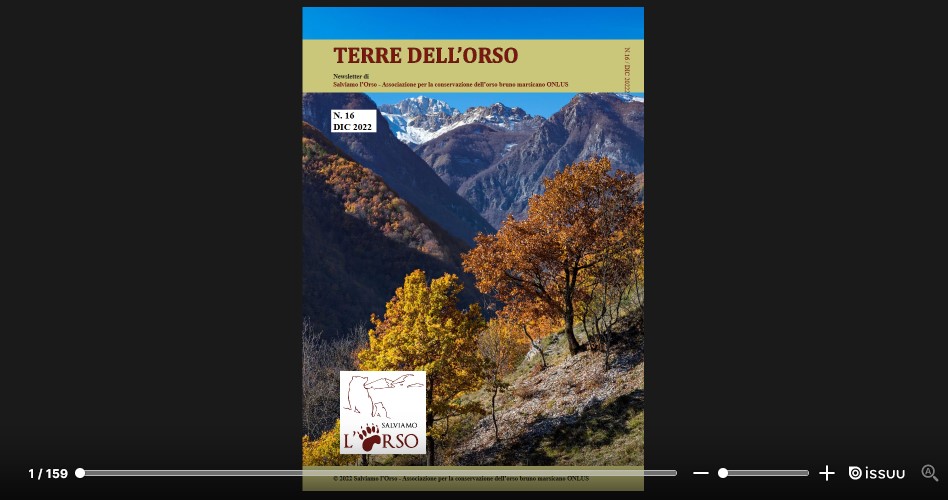 Volunteers
We need volunteers to boost our efforts to protect the Marsican brown bear. Volunteers freely contribute their spare time and their skills to carry out various bear conservation tasks and projects.
VOLUNTEER TO HELP THE BEARS!