Salviamo l'Orso is a volounteer-based, non-profit association which is working to save the marsican brown bear from extinction, by appealing to all those who care for this unique species in the world and for its natural environment.
The work of the association pairs institutional dialogue and efforts with practical actions in the field

Contributing to the knowledge and disclosure about the species status and the factors that pose a threat to it
INFORMING
Promoting and stimulating relations between public institutions responsible for the conservation of the species
SENSITIZING
Monitoring the territory and promptly detecting and reporting risk situations or threats to the natural environments
OVERSEEING
Studying and financing project aimed at bear conservation, implemented by means of volounteers' work
ACCOMPLISHING
Terre dell'Orso (Bear's lands)
Terre dell'Orso, is a newsletter from the association, featuring news, updates and in-depth articles on all the aspects of bear conservation and natural environment preservation.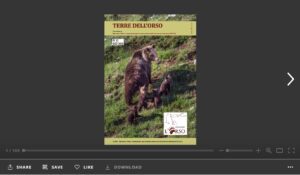 Volounteers
We need volunteers for this and all other practical actions for the conservation of the Marsican brown bear. Volounteers for Salviamo l'Orso freely give thier skills and free time to accomplish the association tasks..
Be a volounteer for the bears!