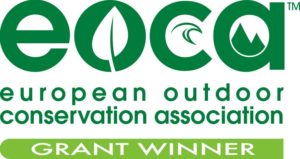 LET'S TAKE ACTION FOR THE BEAR
In August 2017, the "Let's take action for the bear" project was submitted to an EOCA call for nature conservation. Nominated by Ferrino amongst 131 proposals from all over the world to represent the "Mountain" category with three other competitors only, it did not rank first in the online people's vote of October 2017. However, on November 7th it was considered eligible for funding thanks to the preferences of the EOCA members at the end of an internal vote.
This project consists of the following set of conservation actions to enhance the habitat of the Marsican brown bear and promote its spill over from the core areas to neighbouring suitable lands:
Pruning 150 fruit trees in abandoned orchards to improve food sources for bears in mountain areas outside the villages of Pettorano sul Gizio and Rocca Pia, in the Monte Genzana Alto Gizio Nature Reserve, and minimize conflicts with local communities.
Setting up 672 acoustic and optical wildlife warning reflectors along 11.2 kilometres of State Road 17 to enhance bio-permeability and reduce the risk of wildlife road kills.
Removing 4 km of barbered wire from the mountains in between Bisegna and Villalago to improve habitat permeability and natural landscape.
Restoring and improving the signage of three paths to minimize disturbance that outdoor activities can cause to the Marsican bear and other wildlife, due to people spreading around these paths, which are now scarcely signalled.
Local communities will be involved in the implementation of all these activities.
Download here the detailed project sheet.
Final Report of the project "Let's take action for the Bear"
"Thanks, EOCA, for making it possible!"
Written by Mario Cipollone and Simone Giovacchini, translated by Clara Maria Bori
Health and safety
Our volunteers carried out all these actions in compliance with the national health and safety legislation, wearing the personal protective equipment.